Professional eye care for all the family.
COVID 19 Update
Normal opening times and routine eye examinations and contact lens exams have now resumed
Monday 9.00 – 1.00 2.00- 5.00
Tuesday 9.00 -1.00 2.00- 5.00
Wednesday 9.00 – 1.00
Thursday 9.00 – 1.00 2.00- 5.00
Friday 9.00 – 1.00 2.00 -5.00
Saturday 9.00-1.00
To keep everyone safe we are seeing patients BY APPOINTMENT ONLY Including for repairs and adjustments.
Most manufacturers are operating normally and you can try on frames to choose glasses.
Please call 01444 484123 during the hours above to arrange an appointment.
Or email us on info@lindfieldeyecare.co.uk
When you come for an appointment please wear a face covering.
We will be wearing protective equipment.
Do not attend an appointment if you have symptoms of COVID 19 or if you think you have been in contact with someone who may have COVID 19.
Please come alone for your appointment where possible.
The number of people in the practice is limited to 2 unless from the same household.
We will be cleaning the practice between appointments so we may not be able to allow you to wait inside the practice if you arrive early.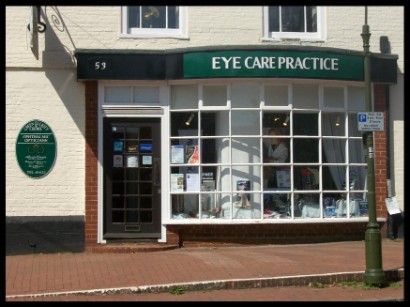 About Us
Lindfield Eyecare is an independent opticians offering quality eye care and thorough eye examinations as the highest priority. Being independent enables us to offer you eye care that is individually tailored to suit your needs.
Optometrist
Alison Crowe BSc(Hons) MCOptom
Alison Crowe graduated with honours from the University of Wales, Cardiff and was awarded the first year prize. She completed her clinical studies with Green & Elliott Optometrists in Eastbourne.
Alison started the Lindfield Practice in 1995 with 2 partners Mr Green & Mr Elliott. She has recently bought out their shares and the practice is now called Lindfield Eyecare Ltd. Alison will continue to offer thorough eye examinations with the highest level of professional care.
Alison is now also accredited to offer Acute Community Eye Services and Glaucoma Referral refinement. If you are concerned over symptoms such as sudden onset flashes and floaters, red or painful eyes or changes in your vision please contact the practice as soon as possible. We also accept referrals from GP's.
Professional Eye Care
We are dedicated to offering you professional care combined with a friendly and personal service. Forty minute appointments are scheduled to allow a fully comprehensive eye examination. We now have a fundus imaging system. This allows a clearer, more detailed view of the eye giving optimal screening for diseases such as macular degeneration, glaucoma, tumors and diabetic retinal changes.
- you can contact us here.
53 High Street Lindfield, Haywards Heath, West Sussex | 01444 484123 info@lindfieldeyecare.co.uk